THE UNIVERSITY
Hi guys, I'm back. In this chapter I will tell you about my time at the University of Seville.
After the first few weeks of adaptation, orientation and introduction to Spain at the Spanish Institute, it was time to go to university, to learn there and to adapt to a new environment and atmosphere.
The first few days my classmates and I felt quite confused as it is a large, old building, with a certain resemblance to Hogwarts. María José accompanied us for the first few days to guide us and show us where our classrooms were, where the cafeteria was and where the resting areas where we could talk to other students, foreign and Spanish were.
These first weeks at the university were quite exciting, as both my classmates and I had to choose the subjects we were going to study. It was an important choice, with the help of María José and the Spanish Institute team we were able to make a good choice and we felt so satisfied. The cafeteria was a meeting point, there were many Spanish students and thanks to them we knew how to find our way around and they helped us as much as possible, what nice people!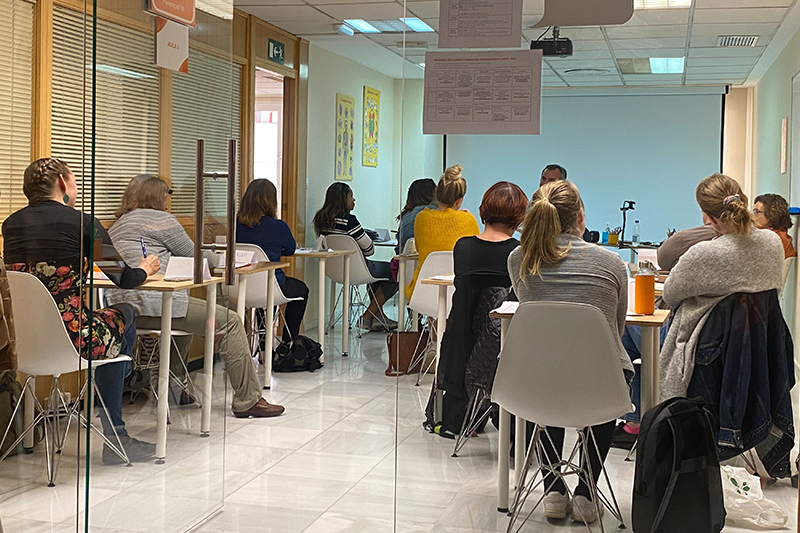 At university, apart from making Spanish friends, we also made friends from other parts of the world who were going through the same experiences as us. With them we got to know other parts of Seville, the bars they hang out in or places they used to go to. We met quite a few people and by then our circle of friends was growing more and more, what an experience!
On Tuesdays and Thursdays we had a seminar at the Spanish Institute. Classes there were quite dynamic. María José, the teacher, is a great professional and makes us learn without us realising it, between lessons we talk about ourselves, our tastes and we always try to do it in Spanish so that we can get used to the language and become more fluent.
In these first weeks, in addition to visiting the places mentioned in previous chapters, we went to Italica, an ancient Roman city located a few minutes from the city centre, which has served as a setting for films and series such as Game of Thrones. This small city was founded in 206 BC, with Trajan and Hadrian as emperors. We visited the amphitheatre, the thermal baths, Casa Neptuno and much more.
I am more and more convinced that studying in Seville was a great decision.
From: Soul Traveler