How I met my family:
Hi guys,
I was finally at my destination SEVILLE!!
When I arrived at my new house the first thing I saw was the big smile of a middle-aged woman. Her name is Carmen. At the beginning she just smiled at me. She was waiting outside, on the sidewalk, to make sure she was the first person I saw when getting out of the taxi.
As soon as we walked into the apartment she started talking… goodness me!!!! I didn't know a human being could talk that fast!!! I was thinking maybe she was as nervous as me. She showed me the apartment. It was quite small; 2 small bedrooms, hers and mine, a small living room, a small kitchen and a small bathroom. It was small but the cleanest pace I've ever seen. I already knew about apartments being small so I was expecting that and my little room was so beautiful and cute. I was so happy.
The first thing I did was to have a shower. Spanish Institute informed my mum about my lost baggage so when I finished my shower I went back to my bedroom to get dressed with my dirty clothes and guess what I found… she had left  clean pajamas on my bed. That was so sweet, I really appreciated that. It was her daughter's that used to come to visit.
After this I slept… I don't even know for how long!!!!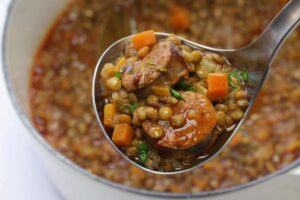 When I woke up I smelt something I will never ever forget. Carmen was cooking. I ran to the kitchen and there she was preparing "Lentejas". If the smell was good the taste was even better. We sat down at the table to enjoy lunch together and this was the beginning of an amazing relationship. After having lunch I had the chance to have a cultural experience, I had a wonderful siesta. A siesta is a short nap you take after lunch, usually on a coach or an armchair.

Carmen kept talking at the same speed so it was not because she was nervous, that she was, but because this is the way she speaks. What a challenge, guys!! But she was so nice that she was making a constant effort to slow down. I think it was harder for her to make that effort than the effort I was making to try to understand her, ha , ha , ha!! Lovely Carmen!
That afternoon she took me to a shopping mall next to her house so I could get some new clothes and toiletries. It was so much fun. We went to Zara, it is really cheap here, H&M, Stradivarius… we had such a good time together.
So this is my first day in Seville. Don't you feel like coming right now?
I will tell you about my second day and how I met the other students and teachers in the program on my next "episode".
Best,
Soul Traveler
* Carmen represents all the amazing women we work with that love our students as one more member of their families.