THE FIRST WEEK
Hi guys,
In this episode I'm telling you my first impressions
As I told you in the previous episode, the smell of Carmen's food had me in love, it was an extraordinary smell, as the days went by I got used to it.
The second day in the morning I went to Spanish Institute, other classmates and I were given a great welcome, there I was able to meet both my teachers and my classmates with whom I was going to spend most of the time. Talking with them I realized that we had many things in common, there were some who even shared the same tastes as me, that day I realized that the experience had just begun.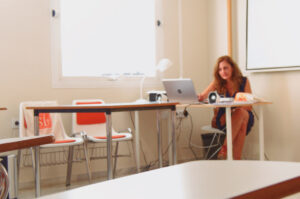 As for the teachers, Maria Jose is a charming lady, the first day she explained to us how the classes would be and the methodology that we were going to follow, with her the classes pass quickly and at the end of the adventure I realized that she has been like my second mother here in Spain, she worries about us and she teaches us much more than just the Spanish language.
In the afternoon my classmates and I went to visit part of Seville although later we would visit it better as well as other cities in Andalusia. I felt in love at first sight with this great city, its narrow streets, the huge cathedral and how friendly the people were.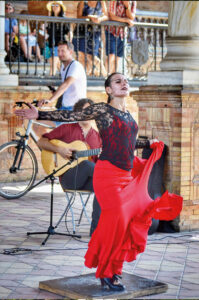 In this first week in Seville, we went to a flamenco dance show, there I realised how in love I am with this culture, I was impressed by the emotion and feeling with which they dance it and the coordination that it is needed to dance this awesome dance, the bailaores expressed a lot with their gaze what they felt dancing and it is something that anyone would be amazed with.
The next day we went to visit an emblematic town, Carmona. There we went up to the Alcazar de la Puerta de Sevilla, a very visited building in this town, next to the Alcazar was the tower of the church of San Pedro, which is called Giraldilla because of its resemblance to the Giralda. We also visited a lot of Roman remains such as the Amphitheatre and the Roman Bridge.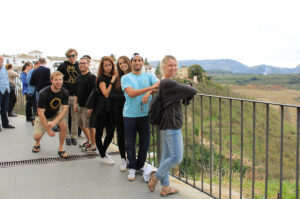 That day I learned that beauty is not only found in big buildings and long avenues, but also in what is natural, simple and with a story behind it that makes you feel trapped in an ancient history.
The weekend was approaching and I wanted the week to start again.
From: Soul Traveler
See you in the next chapter